Vigilant Aerospace CEO Kraettli Epperson will be a panelist for the US Small Business Administration's Unmanned Aerial Systems (UAS) Cluster Initiative on the upcoming webinar on "The ABCs of Developing a Quick Pitch to Attract Investment Capital and Licensing Partners."  The free webinar is on Wednesday, June 28th and is open for
registration
.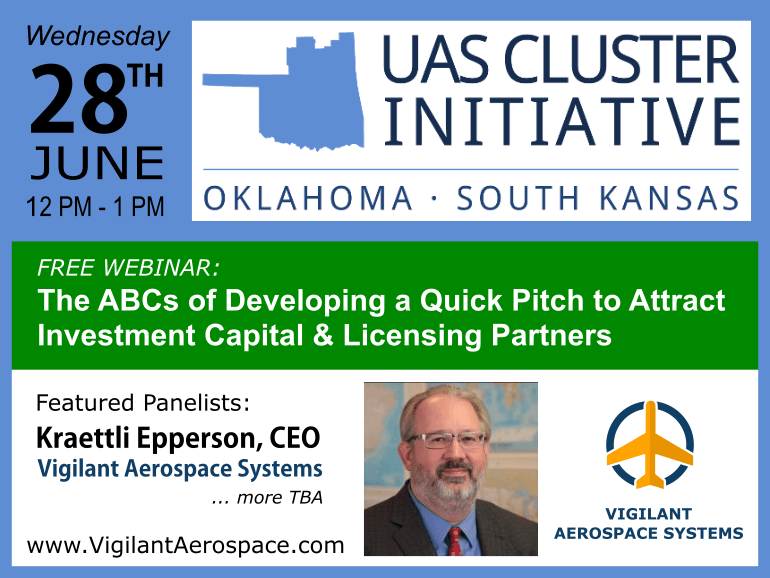 Webinar Description:
The ABCs of Developing a Quick Pitch to Attract Investment Capital and Licensing Partners

Wednesday, June 28, 2017 12:00 – 1:00 PM CDT During this one-hour webinar, Vigilant Aerospace CEO Kraettli Epperson and other experts from the investor and licensing community will provide entrepreneurs, researchers, scientists, engineers and other attendees with several "how to" tips that will help them "pitch" their new technologies to potential investors or licensees. Whether it's a 6-minute pitch or a 20-minute pitch, investors and licensees are looking for key pieces of information. Learn what information to include, what red flags to avoid and how to get to them hooked. Part of the pitch is also being prepared for the immediate follow-up questions. Whether you are part of the technology or the marketing team, this webinar will guide you to a polished pitch that you can take anywhere as you start the hunt for venture capital, angel investment, licensing or strategic partnerships. Register now to take advantage of this free webinar!
About the Unmanned Aerial Systems Cluster Initiative and Tech Forum

The
UAS Cluster Initiative for Oklahoma and South Kansas
is a collaboration funded by the U.S. Small Business Administration and is managed by Development Capital Networks (DCN), with support from the Oklahoma UAS Council and the Oklahoma Department of Commerce. It is focused on accelerating the growth of the Unmanned Aerial System industry in the U.S. by enabling established companies and emerging entrepreneurs in Oklahoma and South Kansas to connect, work together, and gain access to national technology, global capital, advanced business models and global markets. 
https://UAScluster.com
Featured Image Credit: 
Business image created by Katemangostar – Freepik.com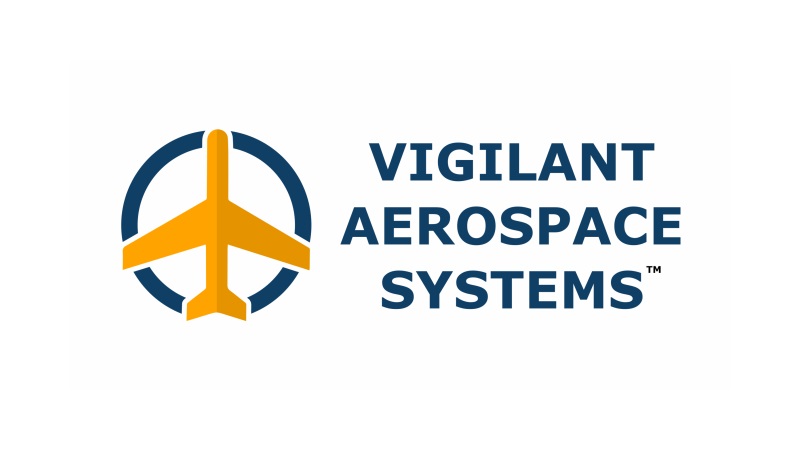 Vigilant Aerospace is the leading developer of detect-and-avoid and airspace management software for uncrewed aircraft systems (UAS or drones). The company's product, FlightHorizon, is based on two NASA patents and uses data from multiple sources to display a real-time picture of the air traffic around a UAS and to provide automatic avoidance maneuvers to prevent collisions. The software is designed to meet industry technical standards, to provide automatic safety and to allow UAS to safely fly beyond the sight of the pilot. The software has won multiple industry awards and the company has had contracts and users at NASA, the FAA, the U.S. Department of Defense and with a variety of drone development programs. Visit our website at 
www.VigilantAerospace.com