FlightHorizon COMMANDER is a situational awareness and safety system for airspace management. The system provides airspace managers with either a 2D or 3D view of all aircraft in the selected airspace using a combination of sensors and data sources to create an airspace safety picture for pilots, airspace managers and command centers.
The system is based on an exclusively licensed NASA patent and prototype that has been used in extensive flight testing, including beyond visual line-of-sight (BVLOS) flight testing at NASA Armstrong Flight Research Center and at the OSU Unmanned Aircraft Flight Station.
FlightHorizon COMMANDER functions as both a visualization tool for airspace management, an active situational awareness tool and as a detect-and-avoid system that enables unmanned aircraft to avoid other aircraft and keeps drone pilots and airspace managers aware of the location and air traffic around their UAS and in their airspace.
The system provides the ability to designate one or more aircraft as "ownship" and to track those aircraft specifically for detect-and-avoid and airspace management and provides self-separation advisories for those aircraft, including visual cues, on-screen text warnings and audible advisories.
The system is also designed to help users to better meet civil aviation authority regulations and requirements and to reduce risk. It can also improve the relative competitiveness of subscribing airparks in attracting UAS operators and service providers.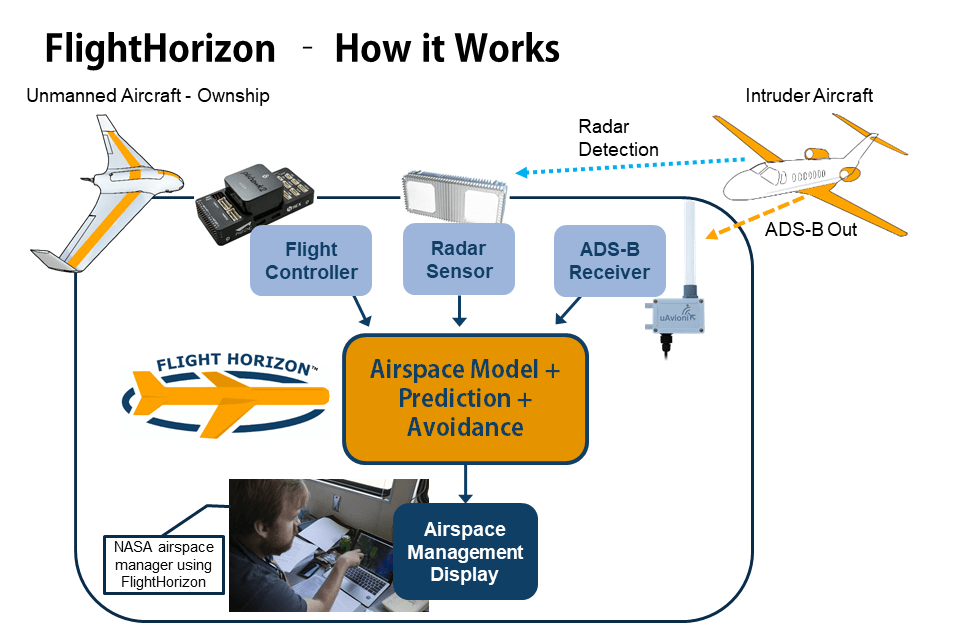 FlightHorizon COMMANDER tracks nearby air traffic using both cooperative (radio transponder) and non-cooperative (radar) sensors. The system fuses multiple data sources into a single display and user interface. This provides airspace managers with a single, coherent data source for managing flight safety, providing consistency across data sources, automatic tracking and updating of all aircraft locations, and provides visual, textual and audible traffic alerts and warnings. By providing a unified display for all data sources and automatically providing self-separation and avoidance advisories when necessary, the manager workload and overall risk is reduced while safety is improved.
Features & Benefits
| | |
| --- | --- |
| | Real-time airspace visualization for safety and management; 2D and 3D geospatial views; High-resolution aerial photography, where available. |
| | Increased situational awareness and decreased risk for unmanned aircraft operators and airspace managers |
| | Active monitoring, alerting, conflict-detection and self-separation advisories; Provides audible, textual and visual warnings and de-confliction guidance |
| | Data fusion across multiple data sources including ADS-B, radar and flight controller telemetry |
| | Concept of operations (ConOps) and risk mitigation documentation and supporting research available; ConOps is designed to be compliant with FAA requirements |
| | Self-contained airspace management system; Turn-key solution for flight programs, airfields, flight campaigns and for training and safety programs |
| | Detailed airspace logging with target states recorded up to five times per second; Full binary signals logging available |
| | Easy re-play of logs in FlightHorizon COMMANDER; Logs can also be analyzed outside of FlightHorizon |
| | Highly flexible, modular and extensible software with room to grow as new sensors and technologies are added |
| | Full integration and consulting services available from Vigilant Aerospace Systems |
| | Map data includes air-traffic control zones, and navigational and sectional charts |
FlightHorizon Product Form