Accompanying our licensing agreement with NASA, we also held a licensing ceremony at Armstrong Flight Research Center in Edwards, California on February 8, 2016.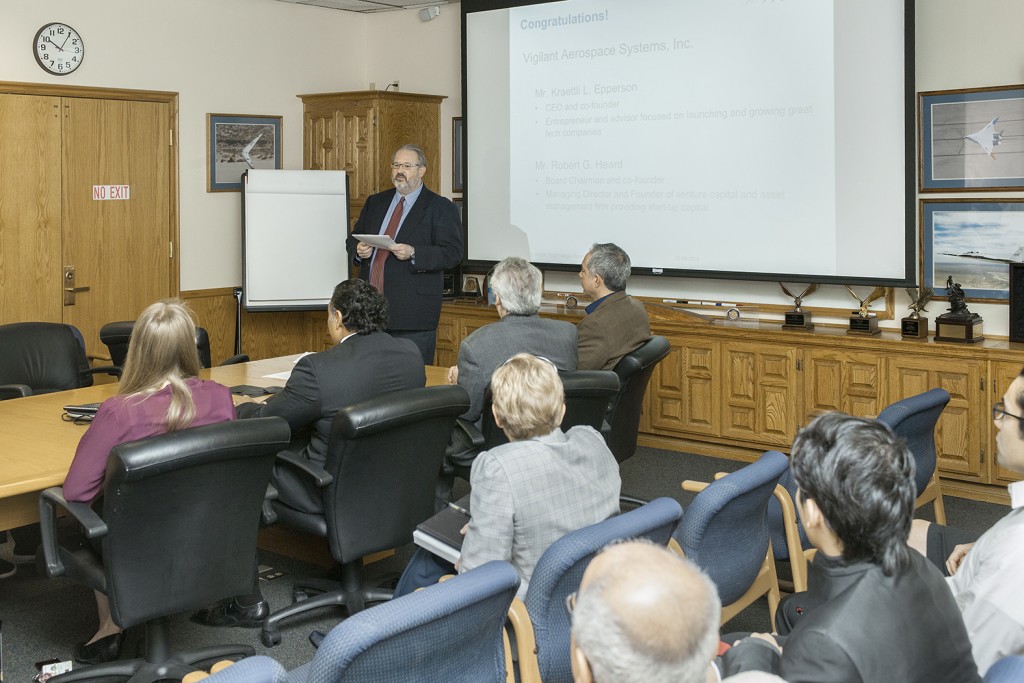 As a part of the ceremony, our CEO, Kraettli L. Epperson, shared some remarks on behalf of Vigilant Aerospace Systems with the gathered NASA engineers, scientists and administrators:
We are very excited to be here today after a lot of hard work on the part of the Armstrong technology transfer team and our team at Vigilant Aerospace Systems. I know there have been long calls and emails and some very late nights, and we appreciate all of your hard work and dedication in making this license agreement happen.
I'd like to tell you a little about how we found this technology, why we decided to license it, a little bit about our team's background and what we intend to do with these innovations.
I first saw these innovations when Dr. Ricardo Arteaga presented them at the UAS Open Innovation Forum in Stillwater, Oklahoma in 2014. At that time, he presented both the concepts behind the licensed innovations and also video demonstrations of the technology in actual flight testing. He showed us the ability to integrate UAVs into the air traffic control system, to provide traffic awareness for pilots and operators, to provide detect-and-avoid, and the potential of future autonomous flight.
In addition to the deep expertise and fascinating demonstrations that Dr. Arteaga presented, we were also inspired by his personal passion for flight technology and his long-standing commitment to flight safety. We also learned from him about Armstrong's dedication to being on the cutting edge of flight research nationally and the programs at Armstrong that were developing and testing new ideas out in the field, every day.
During early discussions, it became evident to us that the innovations that Dr. Arteaga was presenting emerged from a larger vision of how flight should work in the modern world and that his inventions were a critical part of a much larger story that is emerging right now in contemporary flight. It became evident that we are on the cusp of major industry changes that are sweeping through aviation with the advent of new protocols, new rules, and new technologies, all aimed at making flying both safer and more autonomous.
We were excited about licensing this technology because we see the potential for these particular inventions to not only make significant contributions to flight safety for both manned and unmanned aircraft in the short term, but also to become a platform technology for the future of flight automation in the longer term.
Once the company's venture capital backer, Cimarron Capital Partners, identified the opportunity for a license with NASA, they recruited me to pursue the opportunity and then to form and lead the company. Cimarron Capital had invested in one of my previous ventures, which was acquired in early 2014, and they liked my approach to tech startups.
At the same time, I appreciate Cimarron Capital's scientist, engineer- and entrepreneur-centric approach to launching new ventures. In addition to their investment practice, they have also spent the last 14 years running programs that connect scientists and engineers at Federal Labs to entrepreneurs and investors nationwide through the WBT Open Innovation Forums and other efforts, and have expressed a deep respect for the innovators who make many of our nation's great technical leaps.
Through these programs, the firm and its affiliates have participated in more than 200 companies as investors, advisors or board members and have assisted more than 800 small companies with commercialization of new technologies.
Personally, I bring to the team more than 20 years of experience as a technology entrepreneur specializing in software and information systems. I have co-founded and built consumer information companies, like Questia Media, which created the world's largest digital library and was acquired in 2010, and companies like R7 Solutions, which builds industry-leading geospatial information systems for wireless, rail and utility clients.
My outlook is that there is no faster way to get technological improvements to market than through a startup company and I have dedicated my career to building them, both as a CEO and as an investor.
Now, at Vigilant Aerospace Systems, I'm joined in leadership by board members Robert Heard, who is with us here today, and by board member Mike Tharp, both co-founders of Cimarron Capital Partners.
To tell you a bit more about the company, Vigilant Aerospace Systems is a new startup modeled on and using my background building agile software companies that are able to rapidly take advantage of opportunities and bring new technologies to market quickly. This company is dedicated to the development and commercialization of these inventions.
We have raised our seed funding, have strong investor interest for our next investment round, have started recruiting our engineering and business development staff, and laid out a detailed plan to bring the products to market.
We intend to create partnerships with aircraft maintenance and repair organizations, avionics installation and mechanical schools, avionics manufacturers and drone manufacturers in order to embed these innovations in the large-scale ADS-B adoption that is going to occur over the next 4 years and also into the expected influx of tens of thousands of long-haul commercial drones that will be entering the national airspace, especially in agriculture, utilities and infrastructure maintenance.
Our company's goal is to make the market aware and to get this technology into the hands of as many pilots and unmanned aircraft operators as possible, quickly and efficiently.
Our products will include the software that incorporates the innovations that Dr. Arteaga has created, and some will bundle FAA-certified ADS-B hardware to enable the software. We have dubbed this new product FlightHorizon, and look forward making it available to the public in the near future.
Thank you for celebrating this exciting licensing event with us here today and we look forward to a long and fruitful relationship with NASA and with Armstrong.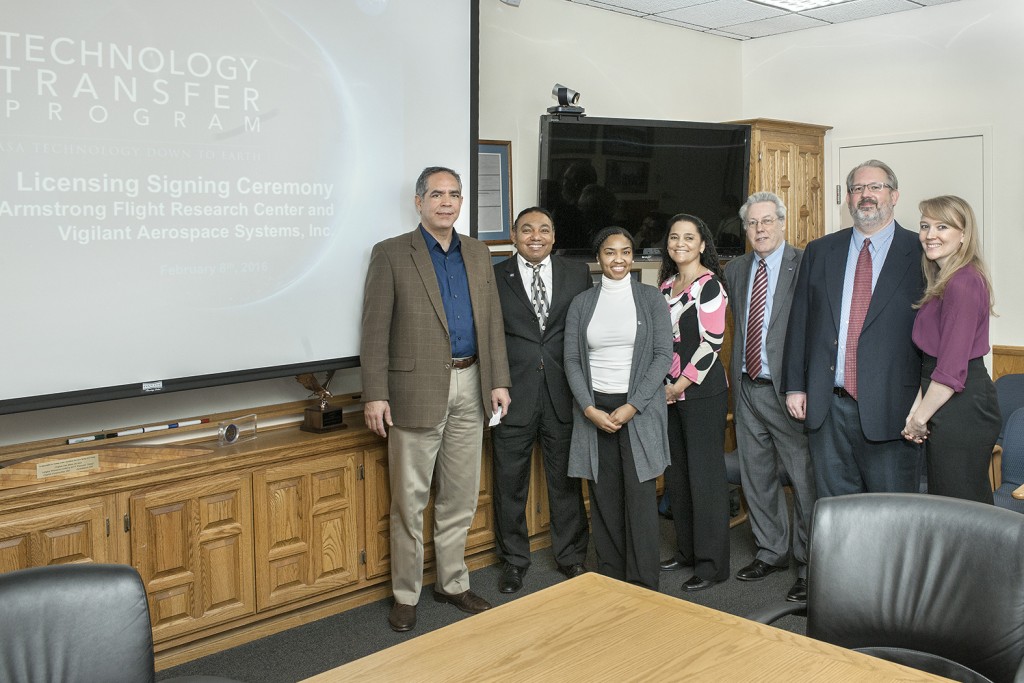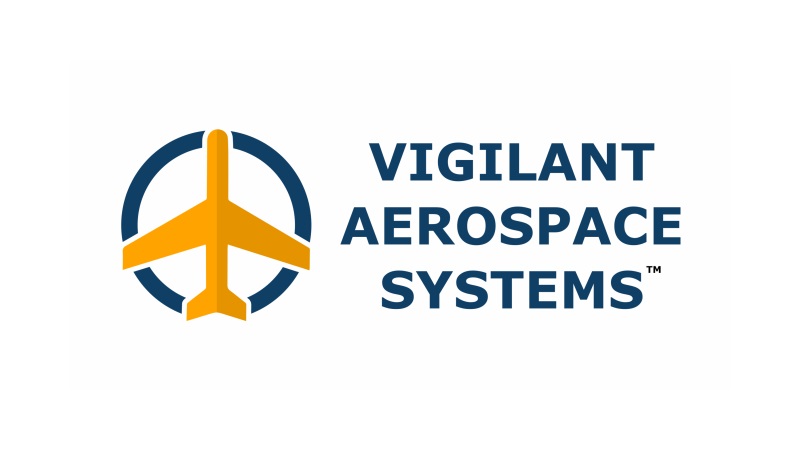 Vigilant Aerospace is the leading developer of detect-and-avoid and airspace management software for uncrewed aircraft systems (UAS or drones). The company's product, FlightHorizon, is based on two NASA patents and uses data from multiple sources to display a real-time picture of the air traffic around a UAS and to provide automatic avoidance maneuvers to prevent collisions. The software is designed to meet industry technical standards, to provide automatic safety and to allow UAS to safely fly beyond the sight of the pilot. The software has won multiple industry awards and the company has had contracts and users at NASA, the FAA, the U.S. Department of Defense and with a variety of drone development programs. Visit our website at 
www.VigilantAerospace.com