Vigilant Aerospace presented a seminar on overcoming obstacles to launching a droneport at the inaugural meeting of the new Droneport Network on Sept. 12, 2018. The meeting was a part of the UAS Tech Forum 2018, the flagship event of the US Small Business Administration's UAS Cluster Initiative. The Droneport Network is a new initiative of the UAS Cluster Initiative and of Development Capital Networks (DCN), the organizer of the UAS Cluster Initiative. The Droneport Network is led by Jim Troxel, DCN's Director of Strategic Initiatives. Vigilant Aerospace is a founding sponsor and content sponsor for the Droneport Network and provided the central seminar content for the first meeting. The one-hour Vigilant Aerospace presentation took the form of three short presentations, made by Vigilant Aerospace CEO, Kraettli L. Epperson. The Droneport Network meeting had 32 attendees including representatives from throughout the US. including representatives from AUVSI, NASA, and universities, research facilities, and private companies from the mid-west.
Obstacles to Launching a Drone Port
The first presentation, titled "What are the Obstacles to Launching your Droneport?" provided practical examples of existing droneports that are overcoming the four most common obstacles to launching a new droneport:
Finding Funding Sources
Getting Regulatory Permissions
Lack of Commercial Activity
Lack of Qualified Companies & Pilots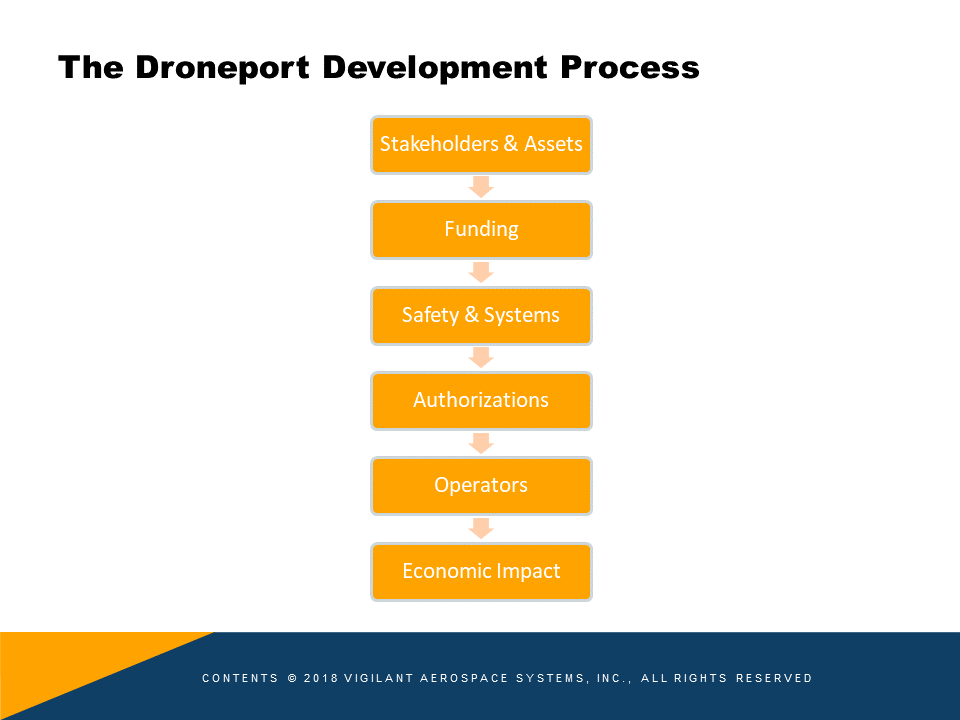 The presentation used specific examples from the several existing airparks:
Grand Sky in Grand Forks, ND
Cape May County Industrial Airpark & UAS Incubator at Cape May County Airport, NJ
Eldorado Droneport in Boulder City, NV
This presentation also mentioned several new airparks in the midst of launching:
York County UAS Facility in York County, VA
USA Drone Port in Hazard, KY
Salisbury Airport UAS Center of Excellence in Salisbury, MD
FlightHorizon for Airspace Management
The second presentation was titled "Quick Introduction to FlightHorizon" and was included as a segue to the third presentation on airspace management.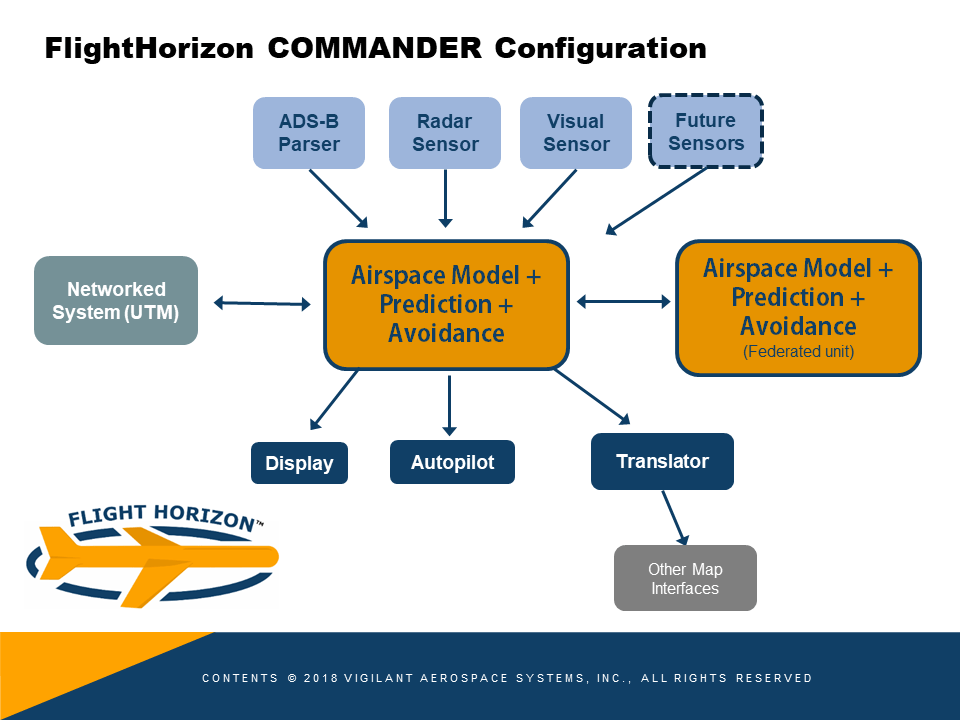 This quick FlightHorizon introduction included an overview of Vigilant Aerospace products FlightHorizon GCS, FlightHorizon PILOT and, especially, FlightHorizon COMMANDER, which was used as an example in the third presentation.
Five Major Airspace Management Problems of Small-Medium UAS Programs
The third presentation was titled "Airspace Management as a Service: Five Major Airspace Management Problems of Small to Medium UAS Programs."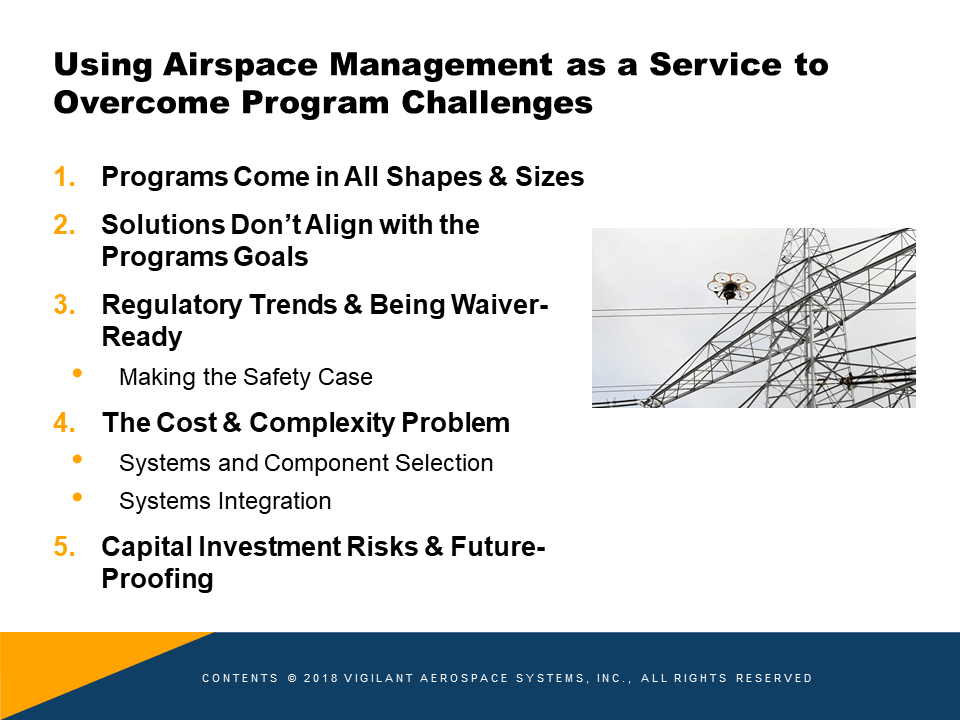 This presentation focused on problems encountered by small to medium-sized UAS programs and how these problems can be addressed using an airspace management-as-a-service solution, like FlightHorizon COMMANDER:
1. One size does not fit all. Programs come in many sizes and often start small.
Airspace management solutions need to start small and allow for growth over time.
2. The airspace management solution is too complicated and doesn't align with program goals.
Some airspace management solutions for UAS programs demand multiple components, complex integrations and end up driving the program goals, rather than enabling the program. The goals should drive the program, not the system requirements. Airspace management as-a-service helps to fix this by keeping the airspace management solution simple, integrated and compartmentalized.
3. There are currently no set regulations for beyond visual line-of-sight flights.
Without current regulations for beyond visual line-of-sight flights, UAS programs need the flexibility to response to new regulations, standards and requirements. Airspace management solutions need to be designed to grow over time and respond to new standards and regulations with regular updates.
4. Cost and complexity creates barriers to initial solution integration.
Solutions should consider cost and effort needed to integration an airspace management solution into a UAS program. Solutions with a flat-rate annual subscription and including system updates, training, and modules for new sensors and technologies as they emerge provide flexibility while reducing cost, complexity and uncertainty.
5. Capital investment risk and future-proofing.
Investing in an airspace management system now, while new regulations and technologies are emerging, is risky and difficult. By selecting a system that includes built-in updates, upgrades, a path to new technologies and regulatory compliance, small and medium-sized programs can protect their capital investment, reassure stakeholders and leverage an initial investment for years into the future.
Conclusions
Overall, system architecture matters. Selecting an airspace management-as-a-service solution that is architected with growth, future updates and new technologies in mind can help small and medium-sized UAS programs to get started now while protecting their investment and providing the right scale and functionality for safety today and in the future. For more information on
FlightHorizon COMMANDER
or to receive a presentation on these topics, please
contact Vigilant Aerospace
.
About the DronePort Network
The DronePort Network is a new national, professional development and trade organization established by the UAS Cluster Initiative of Oklahoma and Kansas which is designed to aid in the development of both public and private sector UAS programs. The network is a resource to professionals, including those designing and building public and private sector programs and public-private partnerships that are intended to create economic impact in a community or region and to improve public safety in that community or region through the use of unmanned aircraft. For more information on the DronePort Network or the UAS Cluster Initiative of Oklahoma and Kansas, visit 
www.UAScluster.com
Images from the September 2018 DronePort Meeting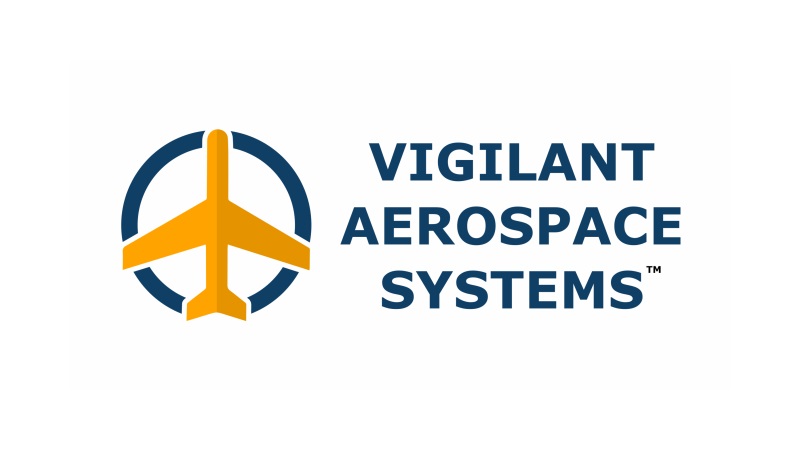 Vigilant Aerospace is the leading developer of detect-and-avoid and airspace management software for uncrewed aircraft systems (UAS or drones). The company's product, FlightHorizon, is based on two NASA patents and uses data from multiple sources to display a real-time picture of the air traffic around a UAS and to provide automatic avoidance maneuvers to prevent collisions. The software is designed to meet industry technical standards, to provide automatic safety and to allow UAS to safely fly beyond the sight of the pilot. The software has won multiple industry awards and the company has had contracts and users at NASA, the FAA, the U.S. Department of Defense and with a variety of drone development programs. Visit our website at 
www.VigilantAerospace.com