Vigilant Aerospace Systems' CEO, Kraettli L. Epperson, is participating in a panel discussion at the upcoming Technology Collaboration Center Remote Sensing Technologies event at the NASA Johnson Space Center in Houston, Texas on October 12, 2016.
The event, sponsored by the Strategic Sensing Alliance, is focused on bringing organizations together who are needing or developing new remote sensing-related technologies. The event will feature presentations on the latest technology advances and unmet challenges, in a format providing an opportunity for participants to network and explore potential partnerships.
Mr. Epperson's presentation during the panel will feature an exploration and discussion of the use of aircraft transponders and ground-based receivers to provide both interactive and automatic aircraft detection, tracking and avoidance for both small general aviation aircraft and unmanned drones; Including discussion of conflict detection algorithms, application of self-separation and well-clear strategies, and recursive checking of conflict resolutions.
Technology Collaboration Center Remote Sensing Technologies Event
Wednesday, October 12, 2016
Presentation: Detect-and-Avoid for Integration of Unmanned Systems into National Airspace
Time: 8:45 AM (Presentation Panel 1)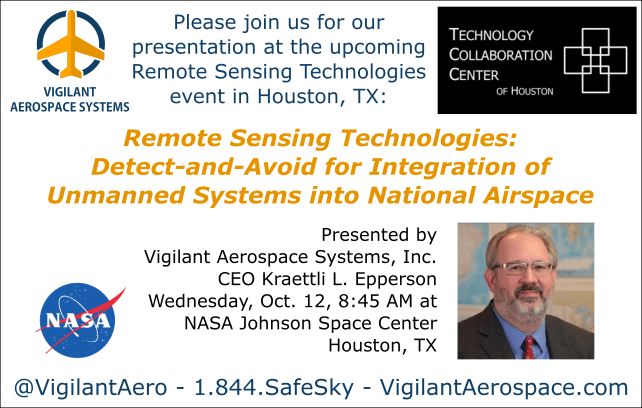 Location: NASA Johnson Space Center
2101 E NASA Parkway, Houston, TX 77058
The event begins at 8:00 AM and and adjourns at 4:00 PM.
View more information and register to attend:
www.TCC-Houston.org/Remote-Sensing-Technologies
About the Technology Collaboration Center (TCC):
From the website:
The TCC concept arose after a series of high level meetings, focusing on how the community can more fully exploit the technological capabilities in the greater Houston region. A shared interest among our communities is in the development of more efficient interdisciplinary approaches to real world problems, with the goal of bringing those solutions into practice and to the market. For more information, visit TechCollaboration.center