Vigilant Aerospace Systems will be participating in this week's
2020 UAS Tech Forum
as a sponsor and steering committee member while company CEO Kraettli L. Epperson will be moderating a panel on Remote ID for unmanned aircraft, providing a coffee break chat on unmanned aircraft traffic management (UTM) and also participating in a forum on early-career jobs in the UAS industry. The UAS Tech Forum is an annual event hosted by the
UAS Cluster Initiative of Oklahoma and Kansas (UASCI)
and funded through the Small Business Administration (SBA), which attracts a wide array of public and private sector professionals and leaders involved in the unmanned aerial systems (UAS) industry.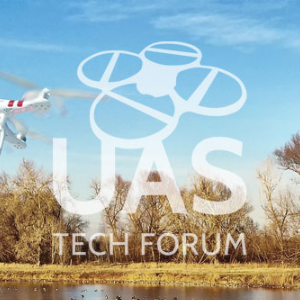 Vigilant Aerospace Systems CEO Kraettli Epperson is first giving a brief chat on Wednesday, Sept. 9th at 01:15 PM – 01:45 PM CT titled "Coffee Talk – Chat with experts about UTM, or Unmanned Traffic Management." It is widely believed that UTM will play a crucial role in the widespread adoption of drones, especially in urban areas. During the talk, he will provide a brief overview of what UTM is, how it might be used to enable advanced UAS flights and especially how it could impact the emerging industry focus on urban air mobility (UAM). In the evening, Epperson will be one of several participants in an industry roundtable about "Early career opportunities for the UAS Industry's Next-Generation Workforce." The session will be co-hosted by Co-hosted by Elizabeth Pillar-Little, PhD, Research Scientist, Oklahoma University and Sallie Traxler, Director of the DronePort Network. Participants will discuss needed skills, recruiting steps and other relevant career topics. Panelists include Don Berchoff, CEO, Founder, TruWeather Solutions; Alan Woodward Snyder, Manager, RPA-UAV Systems Training, General Atomics Aeronautical Systems, Inc.; Jon Tanner, Director of Logistics, General Atomics Systems Integration (GA-SI); and Kraettli Epperson, CEO, Vigilant Aerospace Systems, Inc. The session lasts from 06:00 PM to 07:30 PM CT.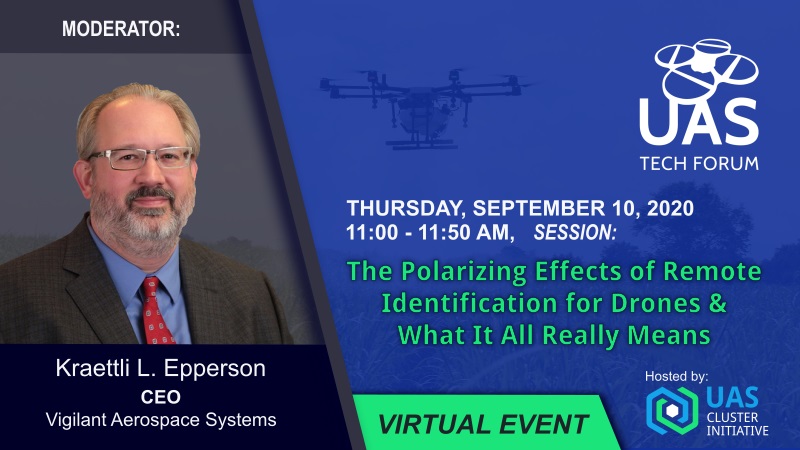 Finally, Epperson will be moderating a panel session titled "The Polarizing Effects of Remote Identification for Drones and What It All Really Means" on Thursday, September 10 at11:00 AM – 11:50 AM CT. This panel discussion will focus on the role of Remote Identification in the integration of unmanned aircraft systems into the national airspace, what Remote Identification means and its current status in the industry. This hot topic will be discussed by expert panelists including Trever Linn, Director of Airspace Integration, Iris Automation; Ted Lester, Chief Technologist, AiRXOS; Jon Hegranes, Founder and CEO, Kittyhawk; Tyler Collins, Vice President of Energy Solutions, PrecisionHawk. The two-day virtual event also includes a full schedule of keynotes, panels, and sessions presented by industry experts and unmanned aircraft systems pioneers:
An opening keynote from Brian Wynne, President and CEO of the Association for Unmanned Vehicle Systems International (AUVSI)
Startup pitch presentations from some of the hottest startups with applications in a variety of UAS markets
Keynote presentation from Joe Morra, the Director of Safety and Integration in the UAS Integration Division of the Federal Aviation Administration (FAA)
Updates from some of the FAA's UAS Integration Pilot Program teams (UAS IPP)
Check out the event agenda for more information on sessions and speakers:
Agenda – 2020 UAS Tech Forum
Don't miss the opportunity to join this virtual event! View the website,
register now
and use discount code "
speakerpromo2020
" to save $25 on your registration!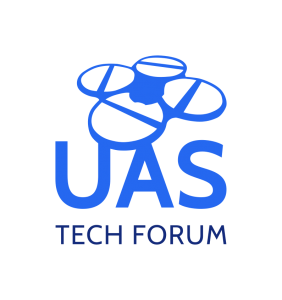 About the UAS Tech Forum
The UAS Tech Forum is the anchor event for the
Unmanned Aerial Systems Cluster Initiative of Oklahoma and Kansas (UASCI)
, a program funded through a contract with the U.S. Small Business Administration (SBA). The UAS Tech Forum is an annual conference which attracts a wide array of public and private sector professionals and leaders involved in the unmanned aerial systems industry. The event gives entrepreneurs, investors, researchers, technology transfer professionals, economic development officials and other service providers the opportunity to get together for two days of nationally known keynote speakers, networking, informative sessions, technology presentations and investment opportunities. For more information on the event, visit the 
UAS Tech Forum event page
. #UASTechForum
About the UAS Cluster Initiative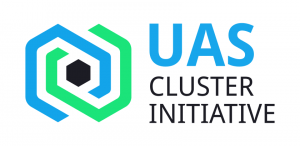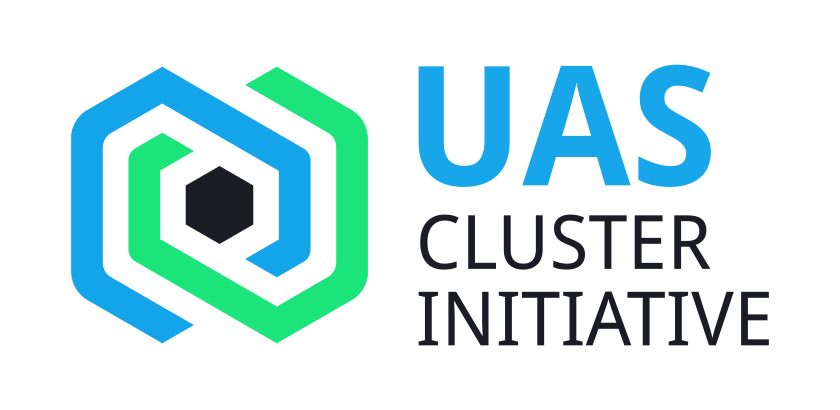 The Unmanned Aerial Systems Cluster Initiative of Oklahoma and Kansas (UASCI) serves manufacturers, investors and entrepreneurs throughout the 77 counties of Oklahoma and 105 counties of Kansas, and in the Choctaw Promise Zone. The UASCI's mission is to provide practical training in UAS technology commercialization, attract capital and equity to UAS entrepreneurs, enable networking and connections between established companies, entrepreneurs, investors, leading technologies, and emerging startups. The UASCI hosts an annual Tech Forum event as well as various webinars and learning events throughout the year. To learn more about the UASCI, visit 
www.UASCluster.com
.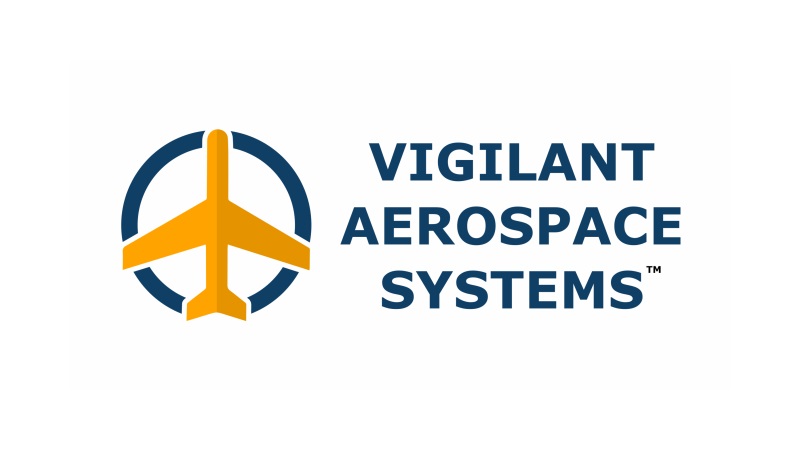 Vigilant Aerospace is the leading developer of detect-and-avoid and airspace management software for uncrewed aircraft systems (UAS or drones). The company's product, FlightHorizon, is based on two NASA patents and uses data from multiple sources to display a real-time picture of the air traffic around a UAS and to provide automatic avoidance maneuvers to prevent collisions. The software is designed to meet industry technical standards, to provide automatic safety and to allow UAS to safely fly beyond the sight of the pilot. The software has won multiple industry awards and the company has had contracts and users at NASA, the FAA, the U.S. Department of Defense and with a variety of drone development programs. Visit our website at 
www.VigilantAerospace.com