Vigilant Aerospace and Oklahoma State University are presenting a panel session on using droneports for the development of innovative new unmanned aircraft technologies including advanced safety systems for beyond visual line-of-sight flight at the upcoming
DronePort Network seminar
on Monday, Oct. 5th, 2020 at 2:00 PM – 3:00 PM EDT The session is titled "Using Droneports Today to Develop New Technology and Safety Systems for Integration of Unmanned Aircraft Systems into the US National Airspace" and is part of the DronePort Network's co-located event with AUVSI's XPONENTIAL 2020, the world's largest conference and trade show for autonomous vehicles. The sessions will feature a discussion on how the Oklahoma State University Unmanned Aircraft Flight Station (OSU UAFS) is currently being utilized for flight testing of flight safety systems to enable beyond visual line-of-sight flight operations.
Session Details
The panel session will provide an overview and timely update on the use of a droneport in central Oklahoma, the Oklahoma State University Unmanned Aircraft Flight Station, to perform critical systems and flight testing of novel safety systems making an impact on the UAS industry and helping to pioneer the frontier of beyond visual line-of-sight flight for unmanned aircraft systems (UAS). Discussion will focus on recent development, commercialization work and flight testing of the FlightHorizon detect-and-avoid and airspace management system at the OSU droneport. Utilizing a research and commercialization grant from the Oklahoma Center for the Advancement of Science and Technology (OCAST), the project has resulted in numerous flight tests and extensive product development to integrate portable air traffic surveillance radars into the FlightHorizon detect-and-avoid system. Based on two licensed NASA patents, the FlightHorizon system helps unmanned aircraft pilots to maintain safe distances from other air traffic, which is critical to allowing drones to fly beyond visual line-of-sight of the pilot. The system is currently used in NASA and FAA flight testing programs and has been the subject of multiple scientific papers.
The discussion will include a range of topics and practical experiences in the use of droneports in the development of new technology:
Discussion of OSU's droneport, how it is situated and operated and serves not only the University but also the larger UAS industry in Oklahoma and nationwide
Goals of the current FlightHorizon research project and what activities have been completed and results achieved to date at the OSU droneport
Review of a recent American Institute of Aeronautics and Astronautics (AIAA) paper on the project, co-authored by OSU and Vigilant Aerospace
Approaches and funding paths for the development of R&D programs at droneport and airpark facilities
Potential development of an unmanned flight testing and drone delivery corridor in central Oklahoma
Opportunities for the development of a regional unmanned traffic management (UTM) system, supported by Vigilant Aerospace, by OSU's USRI and other sponsors and users
NASA's recent awarding to OSU and a team including Vigilant Aerospace of a new project to study wind hazards and how they impact unmanned aircraft, particularly to support Urban Air Mobility operations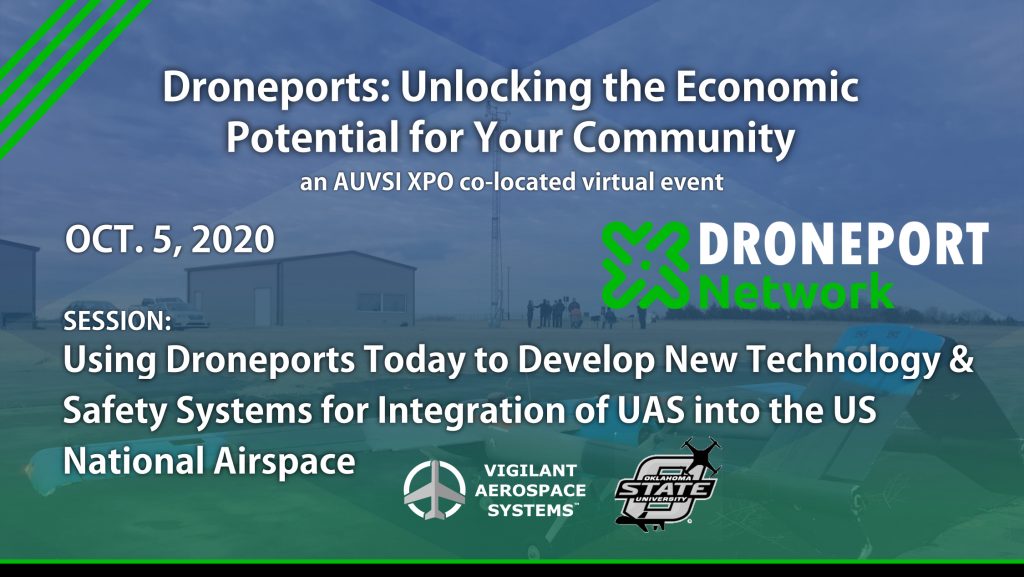 Panelists
Participants in the panel will include Kraettli L. Epperson, CEO and co-founder of Vigilant Aerospace, which provides the FlightHorizon airspace management system, and Dr. Jamey Jacob, director of Oklahoma State University's Unmanned Systems Research Institute.
| | |
| --- | --- |
| | Mr. Epperson is a frequent speaker on unmanned aircraft detect-and-avoid systems and is the co-author, with NASA Senior Research Engineer Ricardo Arteaga, of multiple industry research papers on autonomous systems. He is an FAA certified Part 107 UAS pilot. |
| | Dr. Jacob is a national leader in UAS research, an OSU professor of mechanical and aerospace engineering and has worked on projects ranging from solar aircraft to UAS to be flown on Mars. |
The presentation is part of the DronePort Network seminar featured as an
AUVSI XPONENTIAL 2020 virtual co-located event
being presented via an online platform.
Registration is open
.
Event
View more details and session information for the DronePort Network seminar:
"Droneports: Unlocking the Economic Potential for Your Community"
This AUVSI co-located event occurs on Monday, October 5, 2020, from 10:00 AM to 3:00 PM EDT.
Register now
to join the DronePort Network's XPO co-located event! Registration includes a Virtual XPO Hall Pass.
About the DronePort Network
The DronePort Network is a development organization focused on bringing communities, thought leaders, and companies together to unlock economic prosperity and create jobs in the emerging Unmanned Aircraft Systems (UAS) industry. Membership is open to economic development organizations, airports, developers, companies, investors, academic institutions, nonprofit and government agencies interested in shaping the future of droneport development by collaborating and being an active contributor in the DronePort Network. For more information on the DronePort Network, visit 
www.DronePorts.com
. Vigilant Aerospace Systems is a founding member of the DronePort Network and is a member of the organization's Advisory Council.
About the Oklahoma State University Unmanned Systems Research Institute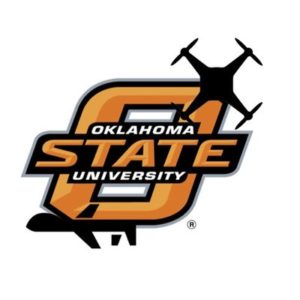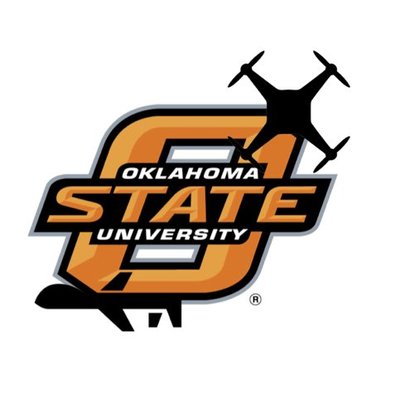 Unmanned vehicles have become a revolutionary technology that is taking the world by storm. The OSU Unmanned Systems Research Institute (USRI) accesses expertise across Oklahoma State University allowing them to combine cutting edge product development with academic knowledge and resources to create unique solutions to critical problems. For more information on the OSU Unmanned Systems Research Institute, visit 
CEAT.okstate.edu/USRI.
About the Oklahoma Center for the Advancement of Science & Technology (OCAST)

The Oklahoma Center for the Advancement of Science and Technology (OCAST) was established in 1987 by the Oklahoma legislature for the purpose of growing and diversifying the state's economy through technology development, technology transfer and technology commercialization. OCAST's was founded with the purpose of expanding and diversifying Oklahoma's economy and providing new and higher quality jobs for Oklahomans by encouraging the development of new products. OCAST also is an active supporter of STEM education across Oklahoma's common education system and provides funding to support internships between local industries and higher education. For more information on OCAST, visit 
www.OK.gov/OCAST
About Vigilant Aerospace Systems

Vigilant Aerospace is the leading developer of detect-and-avoid and airspace management software for uncrewed aircraft systems (UAS or drones). The company's product, FlightHorizon, is based on two NASA patents and uses data from multiple sources to display a real-time picture of the air traffic around a UAS and to provide automatic avoidance maneuvers to prevent collisions. The software is designed to meet industry technical standards, to provide automatic safety and to allow UAS to safely fly beyond the sight of the pilot. The software has won multiple industry awards and the company has had contracts and users at NASA, the FAA, the U.S. Department of Defense and with a variety of drone development programs. Visit our website at 
www.VigilantAerospace.com
About AUVSI XPONENTIAL
AUVSI XPONENTIAL is the global stage for everything unmanned — from state-of-the-art propulsion technology, sensors, energy storage and UAS mitigation solutions to what's coming over the horizon in AI, 5G, edge computing and more. Join 8,500+ technologists, regulators and users spanning many domains and business sectors, and together, we will learn how to leverage unmanned systems to build smarter cities, expand business capabilities, capitalize on efficiencies, and ultimately, make a difference today, tomorrow and in the future. For more information, visit
www.XPONENTIAL.org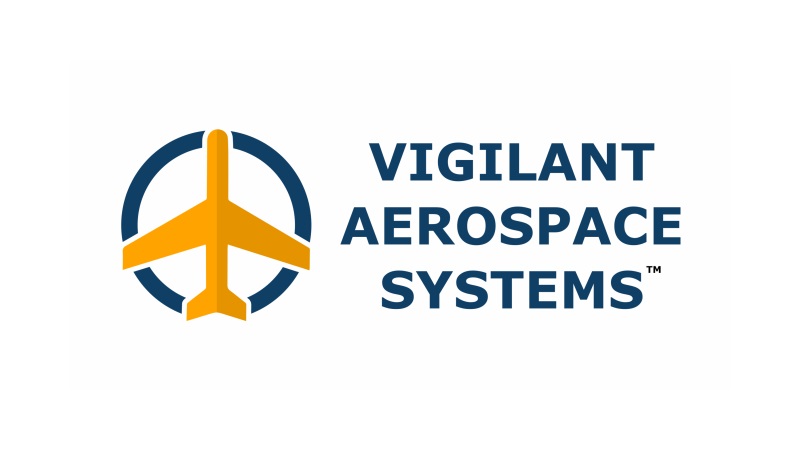 Vigilant Aerospace is the leading developer of detect-and-avoid and airspace management software for uncrewed aircraft systems (UAS or drones). The company's product, FlightHorizon, is based on two NASA patents and uses data from multiple sources to display a real-time picture of the air traffic around a UAS and to provide automatic avoidance maneuvers to prevent collisions. The software is designed to meet industry technical standards, to provide automatic safety and to allow UAS to safely fly beyond the sight of the pilot. The software has won multiple industry awards and the company has had contracts and users at NASA, the FAA, the U.S. Department of Defense and with a variety of drone development programs. Visit our website at 
www.VigilantAerospace.com