Vigilant Aerospace Systems CEO Kraettli L. Epperson has been invited to join industry leaders as a speaker in the upcoming 2022 SAE AeroTech conference March 15-17 at the Pasadena Convention Center in Pasadena, California. Epperson's presentation titled "Developing and Testing Fully Onboard Automatic Detect-and-Avoid for Unmanned Aircraft Systems and Advanced Air Mobility" will be included in the 10:30 am – 12:00 pm PST technical sessions portion of the conference on Tuesday, March 15 featuring presentations on Flight Sciences and Disruptive Technologies . Session details:
Developing and Testing Fully Onboard Automatic Detect-and-Avoid for Unmanned Aircraft Systems and Advanced Air Mobility
Tuesday, March 15, 2022 10:30 am – 12:00 pm PST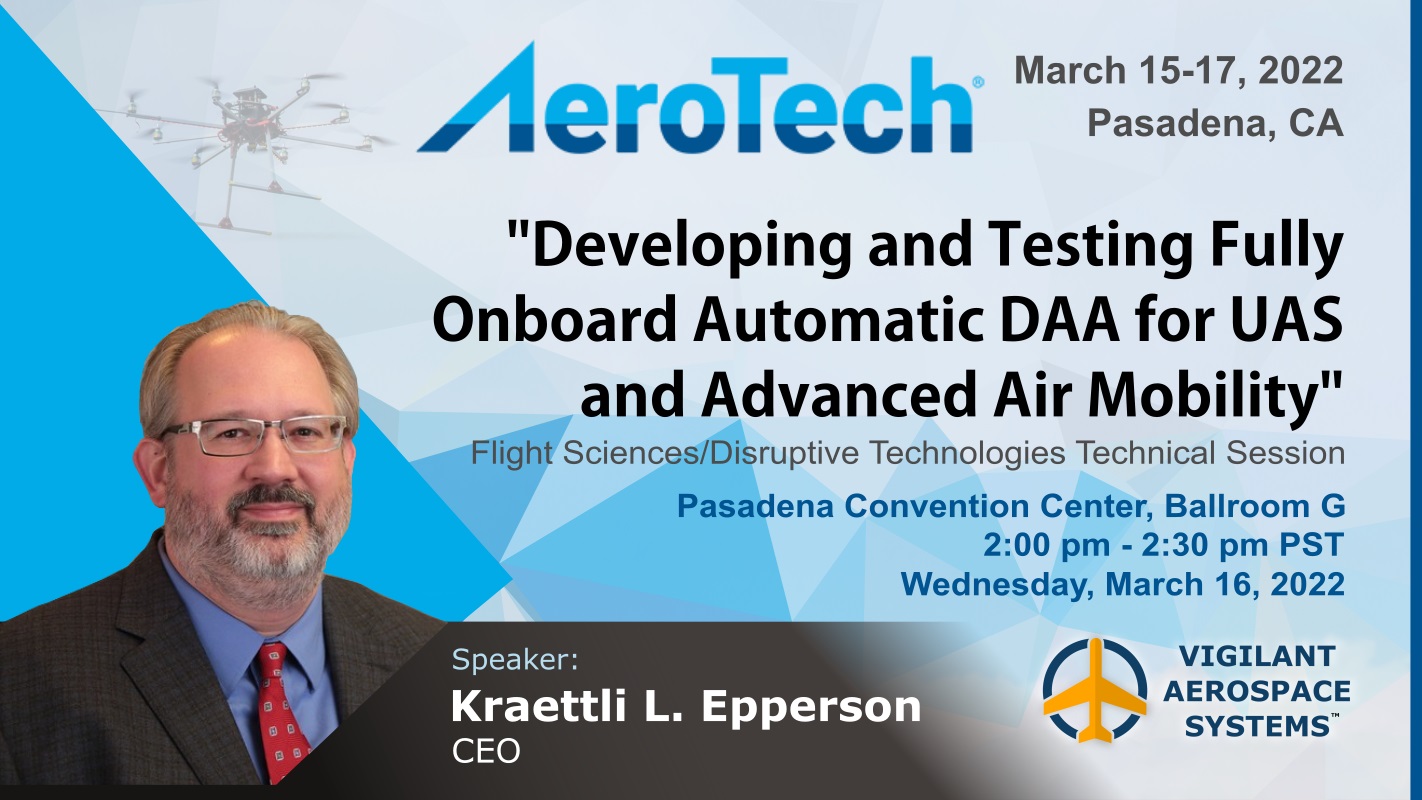 Flight Sciences and Disruptive Technologies Technical Session
Pasadena Convention Center
7902 Fairmont Pkwy, Pasadena, TX 77507 Ballroom H Epperson's presentation will review and explain Vigilant Aerospace's recent progress in the development and flight testing of a fully on-board detect-and-avoid (DAA) system for unmanned aircraft. Special focus will be placed on the required sensor and computing components as well as the software integration necessary for development of a fully onboard multi-sensor system with integration to the onboard flight controller. Whether designed for small or large unmanned aircraft systems (UAS), DAA systems use sensors and algorithms to track manned aircraft, predict conflicts and avoid collisions. DAA systems are crucial to the safe operation of UAS when beyond the visual line-of-sight (BVLOS) of the remote pilot. The presentation will discuss the overall equipment, systems and algorithms required to establish and maintain air traffic situational awareness, general flight safety and maintenance of well-clear distances between unmanned and manned aircraft throughout the flight. The system under discussion is based on two licensed NASA patents and is currently used by NASA and in multiple FAA projects, including groundbreaking BVLOS flights. In addition to providing air traffic awareness, automatic DAA systems (aDAA) of the kind under discussion also calculate and provide a specific avoidance command to the pilot or directly to the onboard flight controller to help the UAS remain the required separation or well-clear distances from manned aircraft. Automatic DAA offers the possibility of fully automatic well-clear maintenance, reducing the need for manual remote pilot intervention during flight, reduced remote pilot workload, management of multiple UAS by a single pilot, improved consistency of deconfliction and other safety and efficiency enhancements. This presentation will explore the required components and steps in development of an onboard detect-and-avoid system and progress towards automatic DAA:
Onboard sensor integration including radar and transponder radio receivers
Onboard integration between the flight controller and the DAA system
Different kinds of collision avoidance algorithms currently in testing
Technical and industry progress towards fully onboard DAA systems
Steps in development of fully automatic detect-and-avoid (aDAA)
Status of industry standards and regulatory certifications
Concepts of operation for beyond visual line-of-sight flight of UAS using DAA
Future roadmap for development and testing to bring systems to market
DAA systems and BVLOS flight will help to unlock the full economic potential of unmanned aircraft to perform vital functions like asset inspection, search and rescue, agricultural surveying and package delivery while onboard DAA is key to freeing UAS to fly long distances without depending on pre-built ground-based infrastructure.
Register now
to join us at the 2022 SAE AeroTech Conference! Want a one-on-one chat?
Contact us
to schedule a sit-down with our CEO at the conference. Call us in office: 1-844-723-3759  /  1-844-Safe-Sky
About SAE AeroTech
The annual AeroTech event produced by SAE International is a comprehensive, North America-based aviation event that brings together the best minds nd key stakeholders from across the industry to share practical information on emerging and applied aerospace technologies and solutions. Join fellow thought leaders and peers from across the global aerospace and defense ecosystem, who are focused on every facet of modern aircraft development and committed to pushing the boundaries of what's possible. For more information, visit
www.SAE.org/attend/aerotech
.
About Vigilant Aerospace Systems
Vigilant Aerospace is the leading developer of detect-and-avoid and airspace management software for uncrewed aircraft systems (UAS or drones). The company's product, FlightHorizon, is based on two NASA patents and uses data from multiple sources to display a real-time picture of the air traffic around a UAS and to provide automatic avoidance maneuvers to prevent collisions. The software is designed to meet industry technical standards, to provide automatic safety and to allow UAS to safely fly beyond the sight of the pilot. The software has won multiple industry awards and the company has had contracts and users at NASA, the FAA, the U.S. Department of Defense and with a variety of drone development programs. Visit our website at 
www.VigilantAerospace.com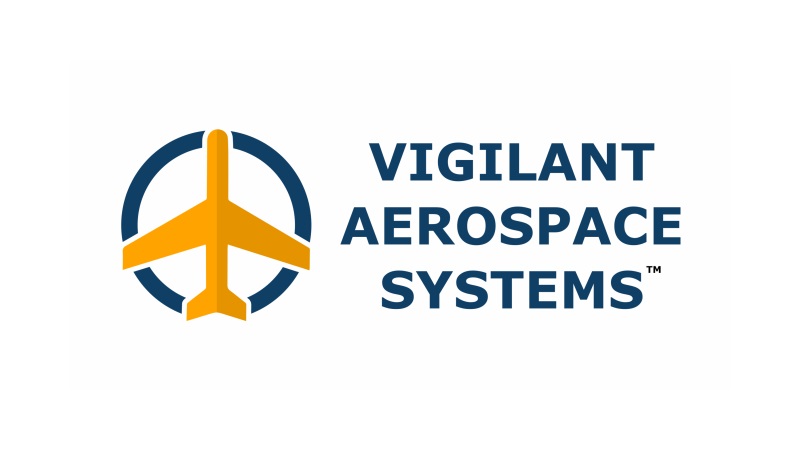 Vigilant Aerospace is the leading developer of detect-and-avoid and airspace management software for uncrewed aircraft systems (UAS or drones). The company's product, FlightHorizon, is based on two NASA patents and uses data from multiple sources to display a real-time picture of the air traffic around a UAS and to provide automatic avoidance maneuvers to prevent collisions. The software is designed to meet industry technical standards, to provide automatic safety and to allow UAS to safely fly beyond the sight of the pilot. The software has won multiple industry awards and the company has had contracts and users at NASA, the FAA, the U.S. Department of Defense and with a variety of drone development programs. Visit our website at 
www.VigilantAerospace.com