Vigilant Aerospace has partnered with the
Alaska Unmanned Aircraft System (UAS) Integration Pilot Program (IPP) team
, led by the University of Alaska Fairbanks, to provide real-time situational awareness, airspace safety and detect-and-avoid services to the team using its FlightHorizon system in order to maintain situational awareness and avoid conflicts during ground-breaking flights as part of the
FAA's new IPP program
. According to a recent article in
Inside Unmanned Systems
magazine about the Alaska IPP team, "Sense and avoid is a key technology for long linear inspection flights and will be one of the capabilities for which the IPP team will be gathering safety-case data." The UAS Integration Pilot Program (IPP) team, led by University of Alaska-Fairbanks (UAF), has announced that it will focus on developing unmanned flight safety cases for beyond visual line-of-sight (BVLOS) aerial surveys, operations at night, and flights over people. "We are looking forward to working with the team to build a strong safety-case for drone operations beyond visual line-of-sight," said Vigilant Aerospace Systems' CEO, Kraettli L. Epperson, "These flights will create opportunities for the adoption of commercial drones for long range flights and ultimately enable integration of unmanned aircraft into the national airspace." Recently,
Inside Unmanned Systems magazine
published an article titled
"Reaching for the Horizon – IPP Alaska"
 which provides an in-depth overview of the team's proposed test flights for integrating UAS into the Alaska airspace. "We are thrilled to have brought a UAS Integration Pilot Program home to Alaska," said Cathy Cahill in a
university press release
outlining the team's selection for the IPP. Cahill is the director of the
Alaska Center for UAS Integration at the UAF Geophysical Institute
(ACUASI), "The 21 partners associated with our proposal represent the best UAS manufacturers, technology developers, operators and public and private end users from Alaska and the rest of the U.S. The talent associated with this partnership should move the safe operation of UAS in Alaska airspace forward significantly," said Cahill in the release. Led by Cahill, the team has proposed test flights that include delivering medical devices to remote areas, assisting with search and rescue operations, surveying fish and wildlife, and monitoring pipelines, roads and other infrastructure.
Long-Range Inspection of Vast Pipeline Infrastructure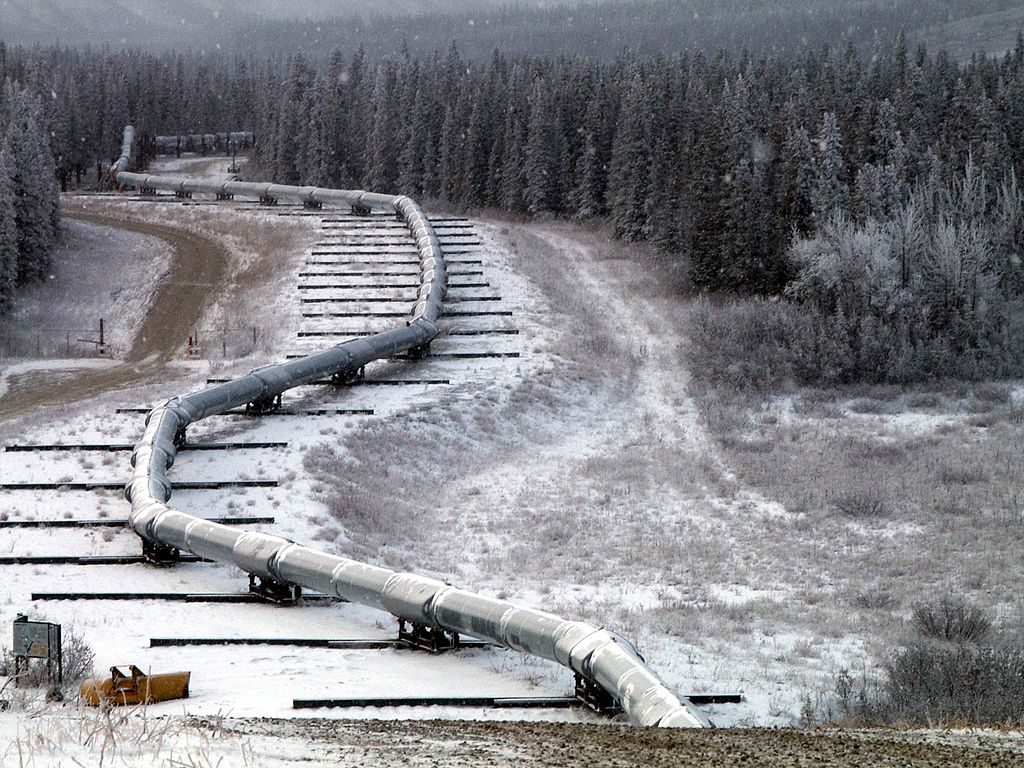 According to the Inside Unmanned Systems article, the team's flight tests will concentrate on building a safety case for continuous, 24/7 monitoring of oil and gas pipelines including the Trans-Alaska Pipeline System (TAPS). TAPS runs 800 miles across Alaska, traveling over three mountain ranges, including the Brooks Range, Alaska Range, and the Chugach Range, over 30 major rivers and streams, and through four major earthquake faults, the Denali fault, Clearwater Lake fault, Donnelly Dome fault, and the McGinnis Glacier fault (
map link
; 
TAPS Pipeline Facts
). According to the article, the IPP team is partnered and working closely with the Alyeska Pipeline Service Company (APS), which operates TAPS, and plans to start with flights over a 7-mile length of the pipeline. Jasques Cloutier, a UAS expert for Alyeska Pipeline Service Company, told Inside Unmanned Systems, "Our pipeline is 800 miles long and to be able to fly that distance would be a great benefit for us." In addition to doing inspections along the TAPS, the Alaska team will also be monitoring several smaller pipelines including natural gas infrastructure in the Cook Inlet, monitoring for leaks and unauthorized people in the area. "There are some 40 and 50 mile stretches where we'd like to go beyond line of sight along those pipelines," Cahill told Inside Unmanned Systems.
Climate and Land Restrictions Create Great Demand for Beyond Visual Line-of-Sight Operations
All of the test cases proposed by the team are major concerns in Alaska as the local climate often produces impassable roads, avalanches, and extremely harsh weather, making already rough terrain nearly impossible to navigate for much of the year.
Bad Road Conditions and Avalanches Create Impassable Routes
Cahill told Inside Unmanned Systems that drones could be a valuable tool for surveying roadways to discern the status of routes. "For example, up in Thompson Pass, which is down by Valdez, (the Department of Transportation) is concerned about avalanches. They're concerned about deteriorating roadways, asphalt, etc., [,,,] They've got an airport that they need to survey for obstructions." "This is going to be something in Alaska that'll be very important," Cahill said in the article. According to the article, when routes are inaccessible, drones can provide an expedient means to deliver important goods – like medical supplies – to remote areas that are inaccessible by road. Cahill told Inside Unmanned Systems, "We have very few roads and often the roads are in terrible condition in the middle of winter."
Wildlife Surveying and Other Wilderness Flights Are a Compelling Need
In addition to infrastructure, the IPP team in Alaska also sees a compelling need for beyond visual line-of-sight operations to access remote areas for fish and wildlife counts. These counts are often performed in canyons and other outlying areas where having people on-site can be dangerous. "We lose a lot of pilots and biologists to crashes in Alaska," Cahill said to Inside Unmanned Systems. According to the article, one such area for wildlife surveys is the Cook Inlet, a large water way that runs north from the Gulf of Alaska to Anchorage. "There are some protected populations of whales in there," Cahill told Inside Unmanned Systems, "so some of what we've talked about doing is monitoring whales using unmanned aircraft." These areas, according to the article, also create dangerous situations for search and rescue missions putting not only the subjects of the missions in danger, but also placing the rescuers in jeopardy as they work to find and recover people from remote areas. These operations could also help to prove safety cases for drone operations over people as drones would provide support while working with urban law enforcement, search and rescue operations, and monitoring long-range events like the annual Iditarod race covering over 900 miles across Alaska. Cahill and team believe many of these dangerous tasks can be completed or supported with unmanned aircraft to drastically decrease or remove current risks to people.
Long Winter Nights Provide Excellent Test Case for Night Operations
Although operations beyond visual line-of-sight are a primary focus for the team, proving safety cases for night operations have a particular importance in Alaska due to the long nights in the northern regions. According to
Alaska.org
, during the winter, Alaska experiences the shortest daylight periods of any U.S. state. At the peak of winter Fairbanks, Alaska, the location for the ACUASI facilities, experiences only 3 hours 42 minutes of daylight and Barrow, Alaska, the northernmost town in Alaska located 330 miles north of the Arctic Circle, experiences 67 days of darkness (November 18 – January 23). With few daylight hours in which to work, proving night operation safety cases is necessary in order to fully integrate drone operations into the Alaska airspace year-round.
FlightHorizon in the Alaska IPP
Proving a safety case for unmanned flight operations beyond visual line-of-sight and is a major focus and obstacle to true integration of drones into the national airspace. This is where Vigilant Aerospace's FlightHorizon detect-and-avoid and airspace management product becomes key. FlightHorizon provides airspace managers and pilots with a 2D or 3D view of all aircraft in the selected airspace using a combination of sensors and data sources to create an airspace safety picture. The system is a solution which enables pilots to detect, track, predict, and avoid other aircraft. The software sends commands to self-separate and maintain well-clear distances to the unmanned aircraft pilot, or autopilot, to avoid conflicts quickly and efficiently. Once the potential mid-air collision is avoided, the system redirects the pilot onto the original flight path.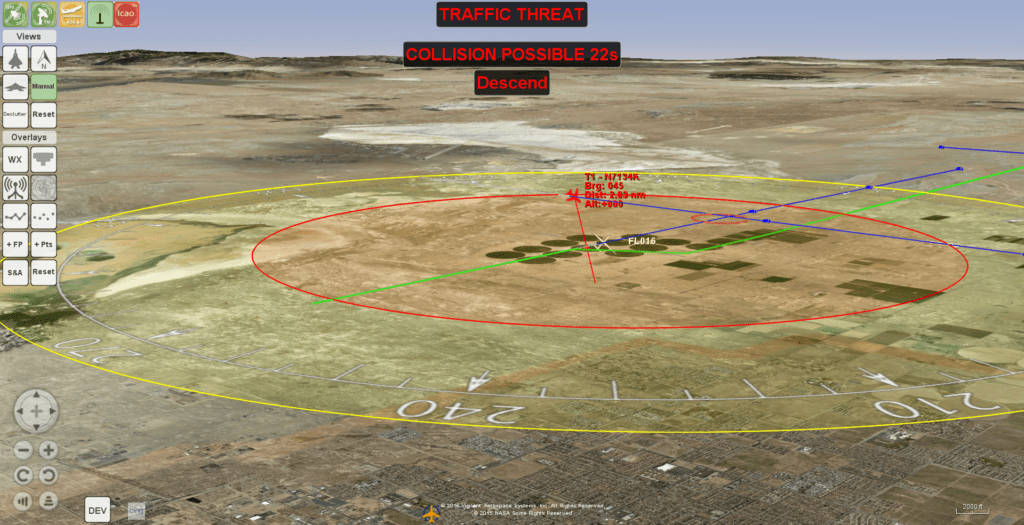 The system uses algorithms and flight rules to deliver a complete solution for safety and regulatory compliance for beyond visual line-of-sight flying and is based on an exclusively licensed NASA patent and prototype. The system accepts data from aviation transponders and, when available and integrated, air traffic control systems, networked traffic management systems and radar feeds. The system is comprised of a software program that runs on a tablet or laptop computer that is (a) used by the unmanned aircraft pilot during flight; or (b) that runs on an independent flight computer on the aircraft connected to the autopilot; or (c) as an independent software module on the primary flight computer. The software accepts signals from aviation receivers on the ground or onboard the aircraft and, when available, from other data sources, like ground-based radars, onboard radar, and networked traffic feeds (like the FAA's air traffic control feed or NASA's Unmanned Traffic Management system – UTM). FlightHorizon COMMANDER is a situational awareness and safety system for airspace management. FlightHorizon COMMANDER functions as both a visualization tool for airspace management, and active situational awareness tool and as a detect-and-avoid (aka sense-and-avoid) system that enables unmanned aircraft (drones) to avoid other aircraft and keeps drone pilots and air managers aware of the location and air traffic around their drone and in their airspace. The system provides the ability to designate one or more aircraft as "ownship" and to track those aircraft specifically for airspace management and provides commands to maintain well-clear distances with visual cues and text and audible advisories. Aircraft target states are recorded up to five times per second and recorded into a flight log. Flights recorded with FlightHorizon provide detailed flight logs allowing for each mission to be re-played and reviewed at a later date. For more information on FlightHorizon, visit our
Products and Services Overview
.  Or,
contact us
today to get started with FlightHorizon.
Articles and Web Resources: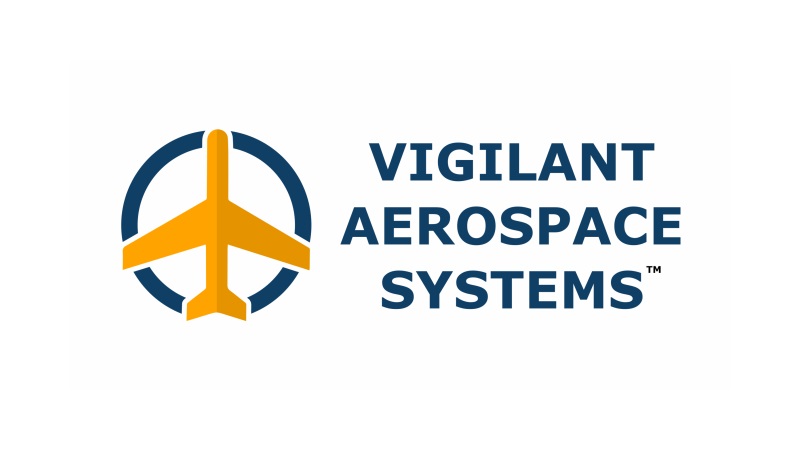 Vigilant Aerospace is the leading developer of detect-and-avoid and airspace management software for uncrewed aircraft systems (UAS or drones). The company's product, FlightHorizon, is based on two NASA patents and uses data from multiple sources to display a real-time picture of the air traffic around a UAS and to provide automatic avoidance maneuvers to prevent collisions. The software is designed to meet industry technical standards, to provide automatic safety and to allow UAS to safely fly beyond the sight of the pilot. The software has won multiple industry awards and the company has had contracts and users at NASA, the FAA, the U.S. Department of Defense and with a variety of drone development programs. Visit our website at 
www.VigilantAerospace.com