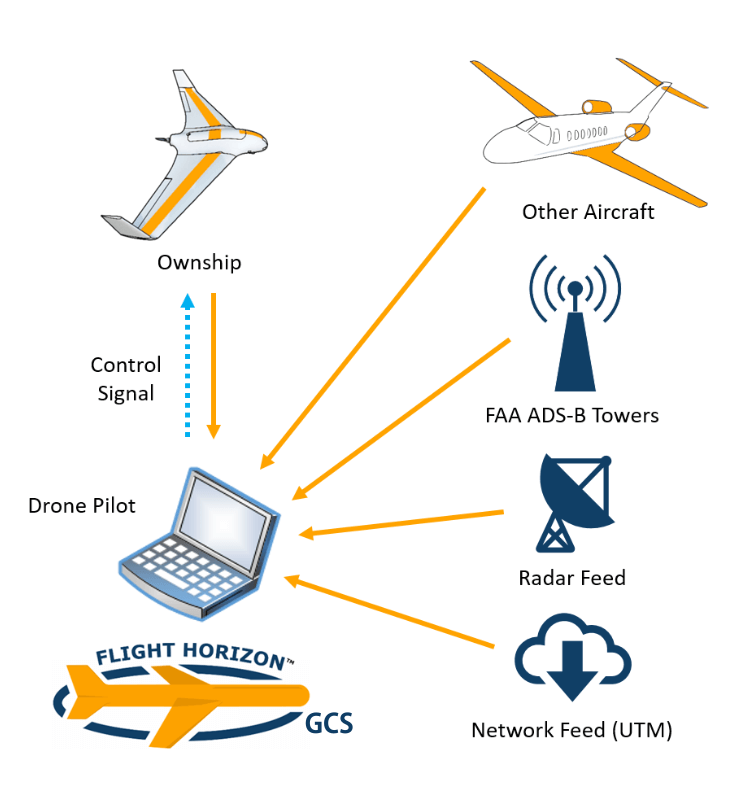 FlightHorizon GCS™ (Ground Control Station) is a complete solution to allow unmanned aircraft pilots to detect, track, predict and avoid other aircraft. The software sends self-separation and commands to maintain well-clear distances the unmanned aircraft pilot to avoid conflicts quickly and efficiently.
Based on a patent and software developed at NASA, the system uses algorithms and flight rules to achieve safety and regulatory compliance when flying beyond visual line-of-sight.
FlightHorizon GCS™ is installed on a laptop or workstation at the ground control station for the unmanned aircraft and uses an ADS-B receiver at the workstation and a transponder on the aircraft to track the unmanned aircraft and all other nearby aircraft in real-time to provide situational awareness, traffic alerts, collision warnings and commands to maintain safe distances. When available, add-on data sources include ground-based radar and networked air traffic control feeds (Unmanned Traffic Management – UTM).
The user interface for unmanned pilots provides 2D map views, 3D synthetic cockpit views, and specific traffic warnings and avoidance commands in the form of audible, textual and visual guides.
FlightHorizon GCS™ is designed to meet the FAA's Part 107.205 waiver requirements for beyond visual line-of-sight flights and the anticipated RTCA SC-228 Phase II Minimum Operating Performance Standards (MOPS).
Check out the FlightHorizon explainer video now!
Features & Benefits
| | |
| --- | --- |
| | Proprietary and patented avoidance algorithms |
| | Traffic awareness and visualization for beyond visual line of sight (BVLOS) flights |
| | Real-time detect-and-avoid with traffic alerts and specific avoidance commands |
| | Real-time traffic data collected from aviation receiver and other data feeds, as an add-on |
| | Integrates with multiple receiver models including uAvionix and Stratux |
| | Runs on tablet (touch-friendly), laptop or workstation |
| | Well-tested user interface design, including 2D map and 3D synthetic cockpit views and interactive geo-browser with high-resolution aerial photography |
| | Air-traffic control zones, and navigational and sectional charts |
| | Detailed flight and traffic logging and full replay of flights |
Download our software and services summary:
View and download our FlightHorizon™ Software and Services Overview [PDF] document for more information on: Integration and Consulting Services, FlightHorizon GCS™, FlightHorizon COMMANDER™, FlightHorizon PILOT™, and check out our Buying Guide to find out which package is best for you!
FlightHorizon Product Form